Following "The Belt and Road" Initiative Building a New Platform for Sino-ASEAN Machinery Cooperation
The first China Machinery & Intelligent Manufacturing Brand Show (Thailand) jointly with Smart Manufacturing Exhibition (Thailand) and Metal + Metallurgy (Thailand) were successfully held in Bangkok International Trade and Exhibition Center from 18th to 20th, Sep., 2019.
It has attracted almost 200 exhibitors from China, Thailand, Malaysia and India. The grand space is 6000SQM. Meanwhile, about 7000 professional visitors from more than 40 countries and regions attended the exhibition, including Thailand, Malaysia, Indonesia, Japan, Singapore, the United States, Germany etc. of which Visitors from ASEAN countries occupied 36%.
According to the inquiry after the exhibition, the visitors gave highly comments to the quality of exhibitors, the products as well as the organizers. A significant number of exhibitors found partners during the show, some of them even signed cooperation contracts on-site. Both exhibitors and visitors are satisfied with the exhibition.
The first Smart Manufacturing Expo in Thailand has seen fruitful outcomes
Gain Strong Support in and Abroad
The exhibition this year got strong support from Thailand Foundry Association, Thai Tool and Die Industry Association, Thai Auto Parts Manufacturers Association, Thailand Machinery Association, Thailand Convention and Exhibition Bureau, many local industry associations and institutions in Thailand as well as the highest concern from Indonesian Foundry Industries Association, Federation of Malaysian Foundry and Engineering Industries Associations, Pakistan Foundry Association, Vietnam Foundry Association, The Institute of Indian Foundrymen, Hong Kong Foundry Association, Taiwan Foundry Industry Association, Alibaba.com, China Hydraulics and Pneumatics & Seals Association etc.

Attractive and Successful Events during the Show
Keynote Speeches by Alibaba.com
As one of the most successful B2B business platform in China, Alibaba.com gave two keynote speeches "cross-border business opportunities via E-commerce" and "king of the data" to share how they can get huge growth in the E-commerce platform, become one of the ten companies of the world's highest value of successful experience, to help enterprises use electric business platform to promote trade between China and ASEAN.
Various Activities in Foundry Industry
The Asian Foundry Association was formally established during the show. It is a milestone in foundry industry of Asia. As a non-profit organization, Asian Foundry Association aims to serve the development of casting industry in various fields, to promote the member countries' communication and cooperation, improve the casting industry economic value and social benefits.
There are many other wonderful forums and activities during the show time, such as Sino-Thai Art Casting and Buddhist Ceremony Castings Symposium, The Efficient and Intelligent Foundry Equipment and Technology Development Forum, The Green and Environmental Foundry Materials and Technology Development Forum, DISA Foundry Technology & Application and etc.
These successful events set up a good platform for deepening exchange among the exhibitors, associations and visitors, also lay a solid foundation for promoting cooperation between enterprises from China and ASEAN countries.
Positive Feedback from the exhibitors
Zhang Hui, from Alibaba.com(official partner of Smart Manufacturing Exhibition 2019): With Alibaba.com exclusive rights and interests, our customers participated in Smart Manufacturing Exhibition 2019. Firstly, although it is the first time Smart Manufacturing Exhibition is held in Thailand, there are many potential professional buyers. One of our customers received 34 buyers business cards and got orders worth $60,000.00. Secondly, our customers strengthen their confidence in "going abroad" via Smart Manufacturing Exhibition, they stick to develop international market by combing Alibaba.com sales online and participating exhibitions offline. Thirdly, the Smart Manufacturing Exhibition that Alibaba recommended their customers to attend is better than expected, and Alibaba.com received more recognition from customers.
Qingdao Heng Lin Group has reached cooperation with Kross India and signed a purchase agreement up to $458,000.00 for the horizontal box free molding line project during the show. In addition to the agreement with Indian enterprises, Qingdao Heng Lin has also achieved a series of initial intent of cooperation with the customers from Vietnam and Thailand.
Chinese and foreign trading enterprises have got great achievement at the first time of Smart Manufacturing Exhibition and Metal +Metallurgy launched in Thailand.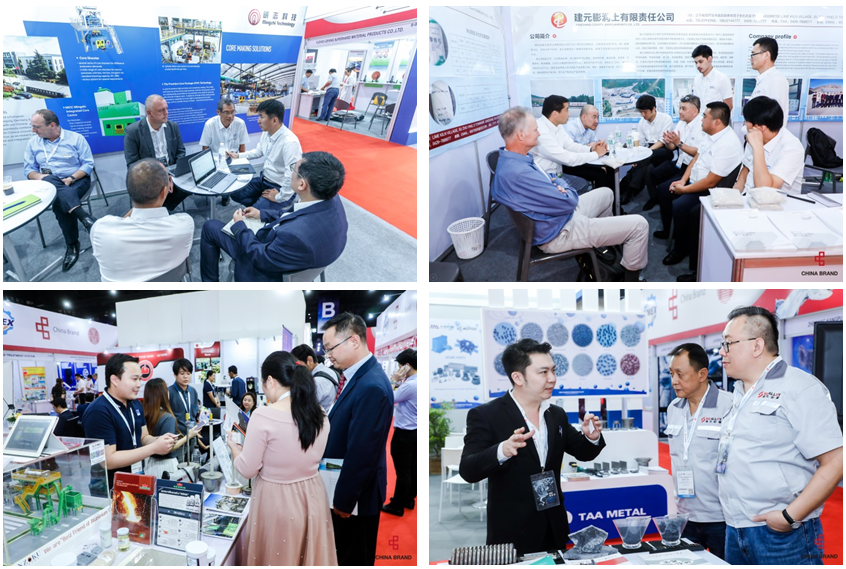 Significant Breakthrough will be Made in Deepening Sino-ASEAN Cooperation in Smart Manufacturing, Metal & Metallurgy .
"The Belt and Road" initiative of the Chinese government has received positive response and participation from Thailand and other ASEAN countries. The friendly relationship between China and ASEAN countries will be further enhanced by closer ties, which is exactly what "the Belt and Road initiative" does: build high-speed railways, improve infrastructure, establish digital connectivity, increase cultural exchanges, and build close and friendly relations between countries in many ways. What is more, closer cooperation between China and Thailand in machinery industry, smart manufacturing, foundry industry and other industries is indispensable for the enhancement of infrastructure construction and the improvement of high-tech and digital communication.
Based on the demand of trading exchanges and cooperation between ASEAN countries and China, we are looking forward to bringing you a more fruitful trade show in 2020.